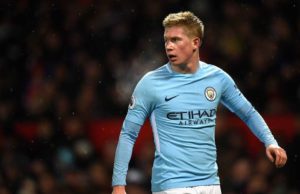 Often, a footballer will be instantly recognisable because of the aptness of their name. Belgian midfielder Kevin De Bruyne – Kevin The Brain in some translations – is as apt as they come. A genius on the ball and one of the most impressive midfield talents in the world, the Belgian is another example that being discarded from Chelsea is often part of the path to long term success!

An incredibly intelligent player, his passing, precision, technique, team work and ability to command the tempo of a game has seen him become one of the most feared playmakers in the game today. He's rated among his teammates past and present as one of the most exciting players in the world. From his early days with Genk – where he quickly became a star in a rising league – it was obvious he was going to be a major talent.
His move to Chelsea, though, was deemed a waste of time. He was barely given a chance, before loan and permanent moves to Werder Bremen and Wolfsburg took place. In Germany, he got the chance to develop and grow into the superb talent that we all see dominating games for Manchester City today.
His move to City was seen as odd, given he had "failed" previously with Chelsea. His outstanding form for City, though (with 11 goals scored and 15 assists already this season), has quickly seen him become one of the most commonly spoken about players in English and European football.
With a deftness of touch with both feet and an array of passing that's among the very best in the sport, he's become akin to Andres Iniesta in the way he dictates the game for manager Pep Guardiola.
Without doubt, De Bruyne has returned from failures and setbacks in his career to establish a club and international career that's the envy of most.